Emergencies and disruptions in IT, production or HR can affect any business, irrespective of its size or sector. In the most extreme case, operations may cease for a longer period of time, causing the company to lose not only a share of the market, but also its good reputation. In order to prevail against the competition, it is therefore essential to prepare well for the worst-case scenario.
With a business continuity management system, companies take preventative measures to ensure they can start up operations again quickly in the event of an emergency. An exhaustive business impact analysis (BIA) reveals the effects when processes fail, how critical each process is for your company and the amount of time that would be required to get up and running again, thus providing you with important information for your risk management. The measures for handling risks derived from this analysis are then incorporated into your BCM system; emergency plans are defined here, too, so that you can continue business operations even in the event of an emergency. These also help you to get operations going again quickly after an interruption, thereby limiting the extent of the damage. Our experts certify your crisis and emergency management processes in accordance with ISO 22301. To this end, we also check your risk management system with regard to the relevant criteria.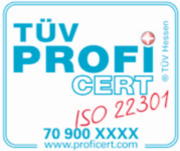 Security for your company and its customers
With certification according to ISO 22301, you will receive qualified information on the effectiveness and resilience of your business continuity management system. This not only improves the stability of your company and its business processes, but also conveys this reliability to customers.

How does certification under ISO 22301 work?
The certification is divided into six steps:
Inspection of documents with regard to the BCM requirements according to ISO 22301
Pre-audit: on-site appraisal (optional)
Coordination of deadlines and an audit plan
Certification audit
Awarding of the certificate
Monitoring audit (annual)

What are the advantages of BCM certification to ISO 22301?
Identification and management of current and future threats to your company
Active minimization of the effects of incidents
Key tasks are maintained during times of crisis
Minimization of downtime during incidents and reduction of time needed to get up and running again
Demonstrates stability and reliability to customers and suppliers as well as during tendering processes

The first step to certification – an individual offer from us
Information security and quality start with a personal meeting, a confidential discussion. We will accompany and support you in tackling your individual challenges. Using our holistic approach, we divide your problem into individual tasks and then prioritize them.
Simply speak to us, so that we can support you on the road to certification!

Would you like further information or a meeting?
Then simply get in touch with us:
TÜV Hessen certification body
Robert-Bosch-Straße 16
D-64293 Darmstadt
Tel. +49 6151 600-331
Fax: +49 6151 600-336
Email: Contact